I'm not adding pictures to the previous post (a few days back or so). Instead, I'll insert them here. It's just easier that way.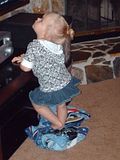 His shirt reads "Lock up your daughters" ;D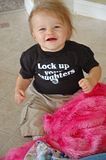 She was too busy "coloring" to smile for the camera. I tricked her into smiling in one of them.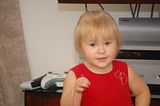 The day before he started walking full-time!
Hair pics
She looks like she's three in this one. :'(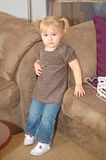 Meet Lauren. Moments before this picture she had decided to be my second Kairi. She pulled my purse off the kitchen island, opened my compact and decorated herself. I know it was her and not Kairi, b/c she had the majority of the makeup in her lap when I found them. Kairi held the blush.
Aren't they pretty? ;D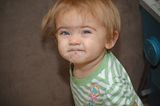 And finally, Kairi decided yesterday that hairbands are fun to wear afterall.