In a rush to get to bed last night b/c my sciatica flared up, I left bags upon bags of birthday party supplies on the couch. This morning Kairi found them. I told her that they were special for her birthday party, and that the party was after church and her nap. That was when it began. Pawty pawty pawty pawty pawty pawty pawty pawty...... They talked about it in class, talked about it in nursery, she drug her daddy out of the church to get home for the pawty, talked about it on the way home. (I stayed home to catch up on all that I should have done the night before but hurt too badly to do -- didn't help, I was still in pain in the morning but at least I was rested.) She refused to take a nap because of her excitement for the pawty.
I was running late, of course, and the party began about 20 minutes after it should have, but several guests were late as well, so it worked.
Here's the pawty with running commentary.
We had these hanging from the ceiling in various places -- different shades of pink.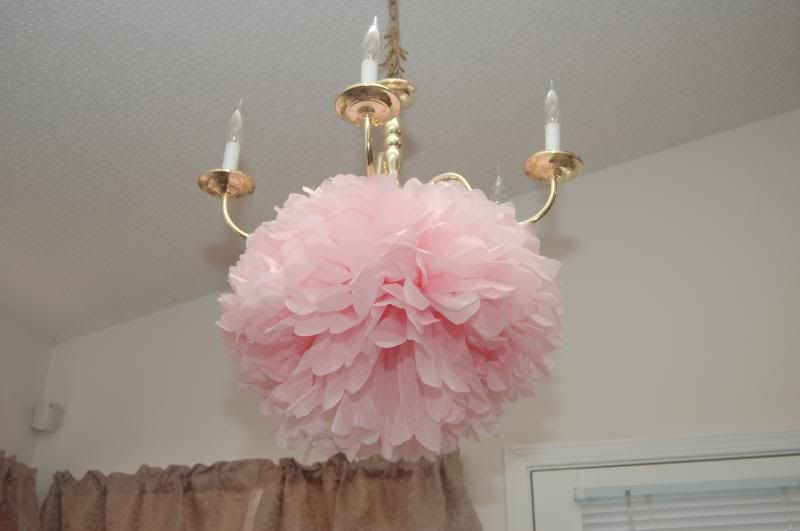 The spread -- minus the pretzel butterflies (cream cheese stuffed celery w/ pretzels for butterfly wings) which weren't done yet.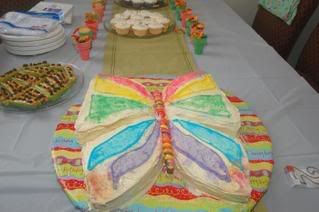 Dirt Cups
Ants on a Log (soy butter and raisins)
Critter Crunch -- animal crackers, honey bees, mini-pretzels, M&Ms, chocolate covered raisins, and gummy worms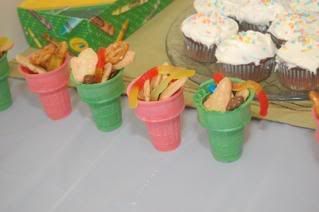 Kairi digging in -- notice the number of ice cones around her....... Yeah, that was all her. We moved the rest.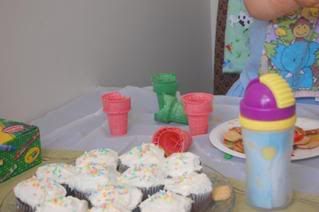 Alex enjoying himself!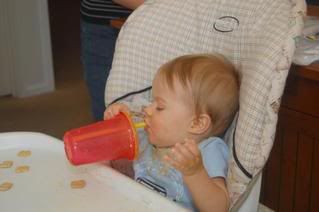 Kairi hiding
Kate and Carter!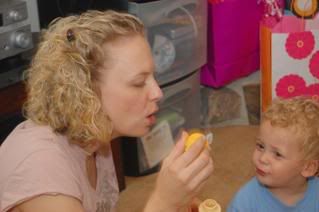 Kairi loves her bubbles!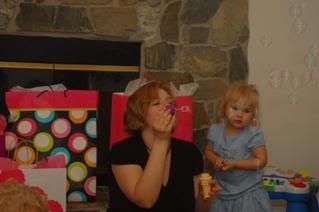 Carter!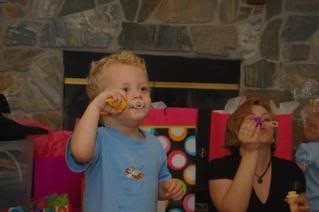 Babies with Mommies
Baby Dash being held by Ms Dea!
Kairi helped herself
What happened when Mommy took the cupcake plate away
All done, let's play ... on the table
Presents!
Kissing the baby in the box.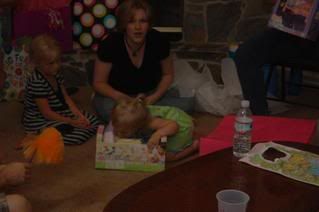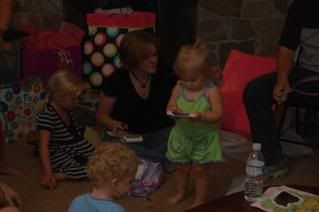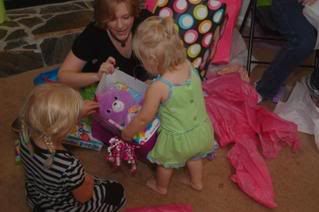 She climbed into Mr. Heath's (Carter's dad) lap to have her book read to her.
That's the party!