We began potty training Monday. It's been a long week, but every day this week Kairi's peed in the potty once! We are going through all of her panties every day, but at least she's beginning to get the idea.
Right before going out, I decided that Kairi had peed so much in the last 30 minutes that she could not have any more pee in her system. I dressed her in a cute skirt and boots (although the "Brobee shirt" was NOT coming off she said). I was pleased and chased her w/ the camera for about 2 minutes.
First decent shot:
Last picture: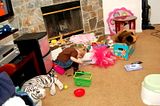 Click on that picture. See exactly what she's doing.
Apparently, Mommy was wrong. Kairi had more pee left in her.
We went to the bank in a diaper.