www.pictology.com
Acct #: 9329414915
Event Name: bigby
Password: pic
Monday was a crazy day! Things were hectic, but by 6:45 all was fairly settled down and we were ready for it to begin.
Once everyone was in the room, "Do You Love Me?" from Fiddler on the Roof began playing. (Have you ever heard the song I'm talking about? If you haven't, you should. And if you don't know my family, then you should know that the humor of that movie and of the song fit us all very well, and you should know that Fiddler on the Roof is my all-time favorite movie.)
After the song ended the sound clip from my dad's proposal was played.
http://www.bestsharing.com/files/4o1pL387159/Mike%20Bigby%20audio.mp3.html
Then I walked in, followed by my brothers, and my parents. The ceremony was beautiful. He talked reread the verses from the original ceremony and then they recommitted themselves to each other and God.
Kairi played and talked and giggled through the whole thing. :) She was adorable. And someone (don't ask me who, but I'm fairly certain it was a female family member ... lol) was holding Alex for me.
As we walked out Shania Twain's "You're Still the One" played in the background.
Afterwards there were a lot pictures and chatting w/ the family. The wedding cake looked just like the original. :) We all had a great time -- it was a very special day.
Here's the few pictures that I took myself.
Center pieces: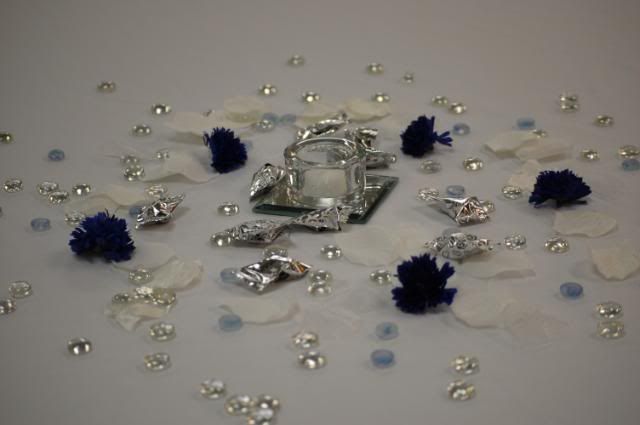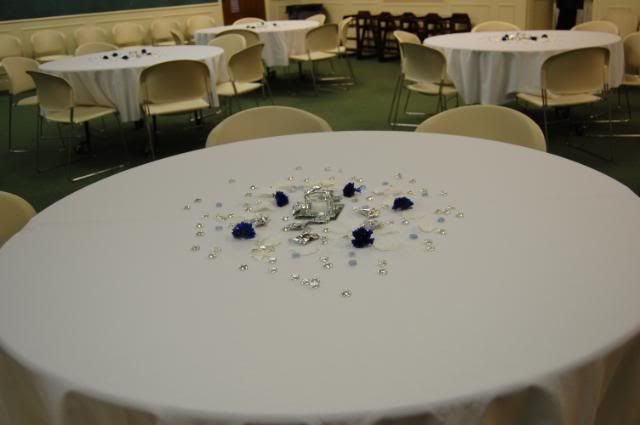 The Cake:
The Preacher and His Wife:
Mimi and Grandad (Daddy's Parents):
Maw-Maw and Grandad (Mama's Parents):
Mama:
Enjoy the pictures that the photog took! They're great!