A long time ago I promised to create a blog. And I did! But apparently creating a blog and actually blogging are two separate issues for me. I'm going to have to work hard to remember to update this on a semi-regular basis. But I will try!
Because a month has passed since I left Jacksonville, let me try to give you an abbreviated version of the last few weeks.
The trip from Jacksonville to Midland took exactly one week. Both my car and my mother-in-law's truck were packed as tightly as sardines on the inside, and had the height of the vehicles doubled on their tops. I learned that when leaving a town w/ my daughter, son, and mother in tow, you should plan to leave at least 8 hours before you originally wanted to because that is how long it will take to get out of that town. We drove through pouring rain at night several nights. My daughter didn't appreciate the trip at all. Alex ate every 2 hours. It was good to see my cousin, although I wish I could have stayed there longer. I thoroughly enjoyed my time w/ my in-laws and Chris's grandparents. The week we were on the road was Thanksgiving week, so we spent Thanksgiving with Chris's family. Here's a few pictures from that time:
With Great-Grandpa Pyle (Pop-pop)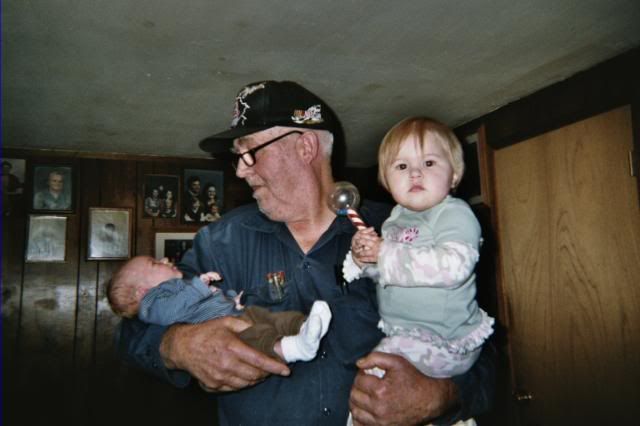 With Great-Grandma Pyle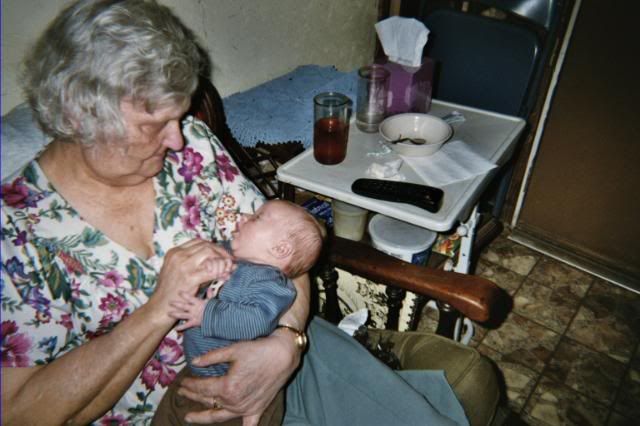 With Grandma Pyle
Playing on the floor w/ Gramma Bigby
I found the toys!
Trucks are fun!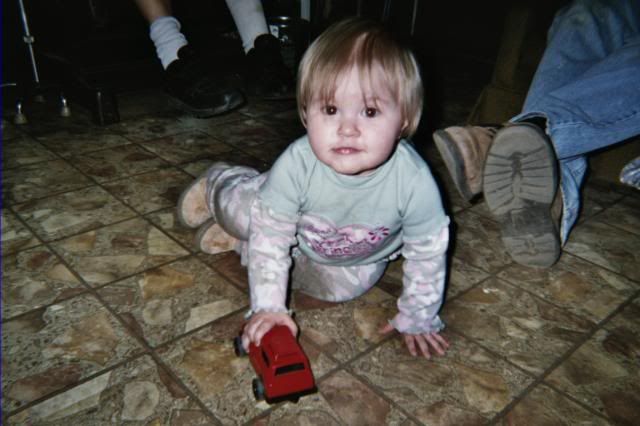 With Great-Grandma Pyle
We eventually made it to Midland, where I learned that the room I was supposed to live in was not ready for me to move into it. We spent the next several days preparing it, and while it desperately needs to be painted that will have to wait for a few months. I moved in to it the day I returned home from my surgery.
Speaking of my surgery.... As you may or may not know, before I left Jacksonville I was having "attacks" in my back. The er there tested me for a pulmonary embolism (blood clot in the lungs) and when it came back negative for that they basically told me that it was anxiety and to deal with it. The attacks continued on, though, no matter how hectic or relaxed my days were. They became more frequent and before long were almost everyday. In Midland I called the doctor that has cared for me since I was born and scheduled an appt for a Thursday. The Friday night before my appointment, though, I had another attack. It was the worst yet and had me writhing in pain on the floor while I cried out for God to help me. My mother took me to the er.
This time they actually listened to what I had to say!!! They ran several tests and diagnosed me w/ pancreatitis. After that diagnosis, they admitted me to the hospital where I was then tested for gallstones. My final diagnosis was "gallstone induced pancreatitis". That Monday morning my gallbladder was removed. I have felt amazing since then! I am definitely still sore as it's just been a little over a week since the surgery, but suddenly so many stomach problems have been cleared up for me!
Since we have been home, both babies have grown by leaps and bounds! Kairi learned to color: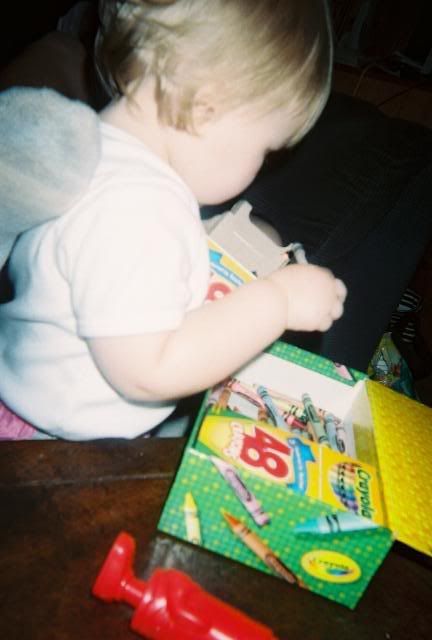 Alex started smiling the day he turned six weeks old (also happens to be the day I was admitted to the hospital). Here's some recent shots of that. But as a fair warning, Chris ran off w/ my digital camera when he deployed so these were taken w/ my phone, which makes them not good at all...But still cute!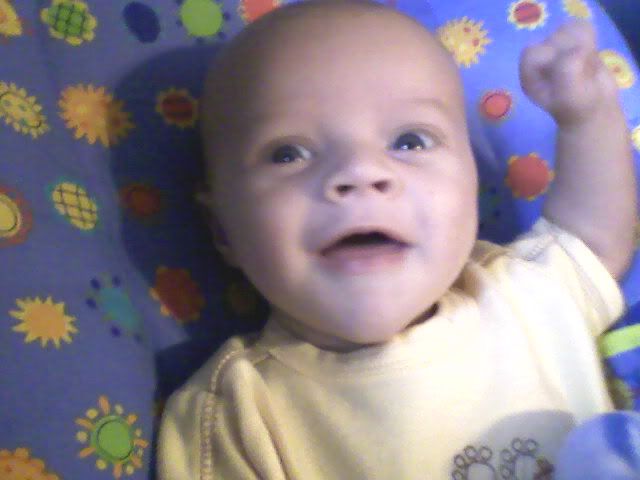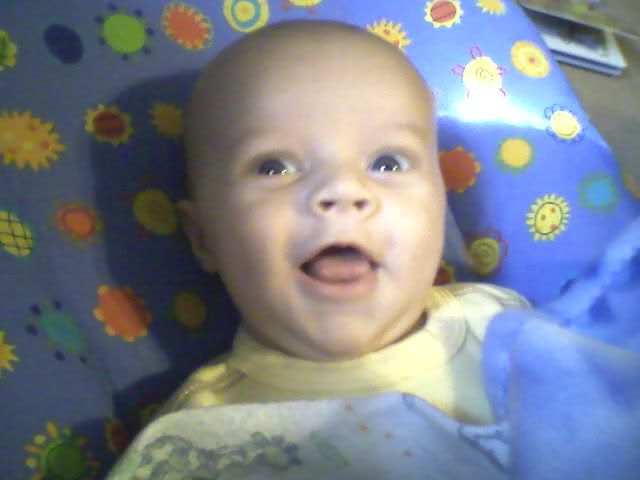 And for a quick comparison, here's Chris's six week old pictures:
Also, Kairi has decided that her favorite seat in this house is a large pot my mom has. She frequently pulls it out and climbs into it. If she is wearing her boots, then she can't get both legs in on her own, but otherwise she gets in w/o a problem. (Again ... pictures taken w/ the phone, sorry.)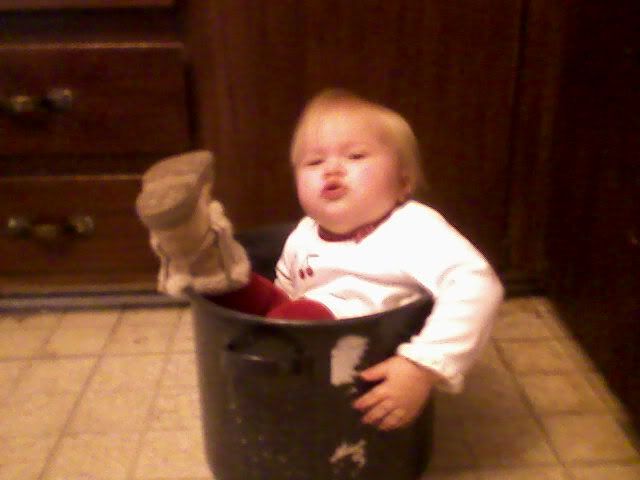 Last Saturday we took the babies to have their Christmas pictures taken. What an adventure! Kairi did well at first, but by the end (when I wanted her to have her picture taken w/ her deployment bear) she was throwing a fit. Here's the best of the bunch: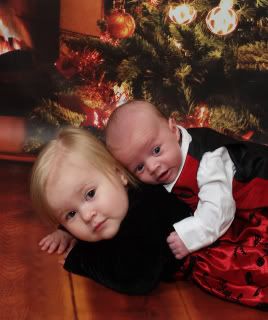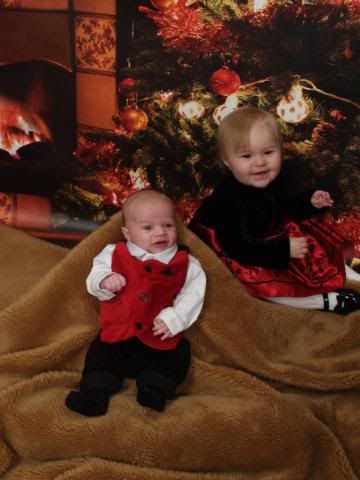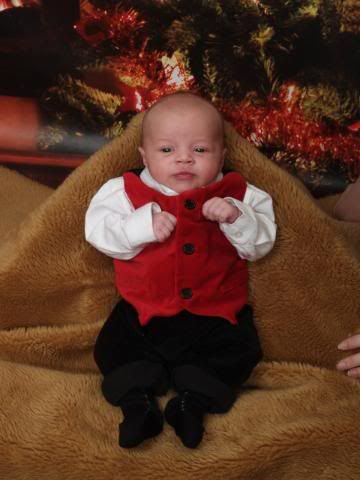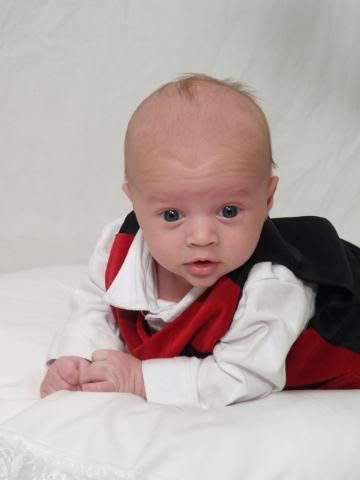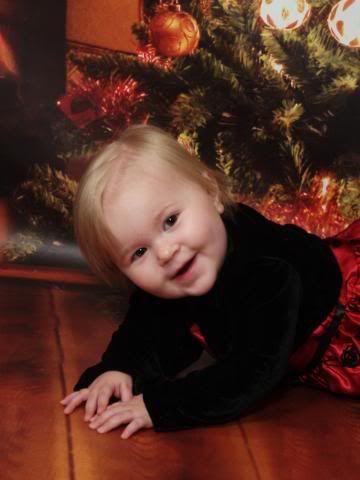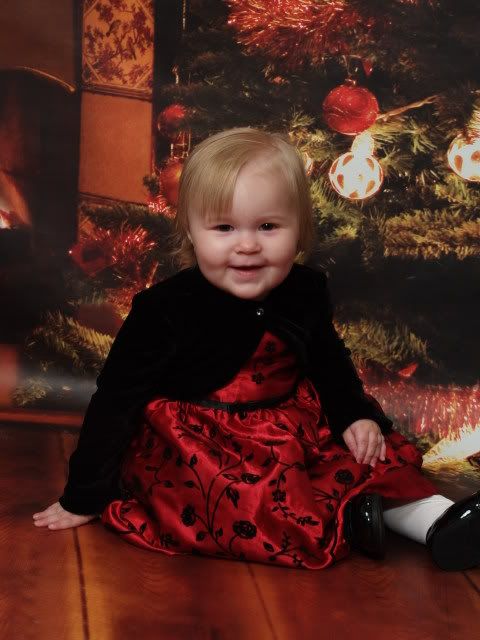 And several other random cute photos ... (some were taken w/ the phone):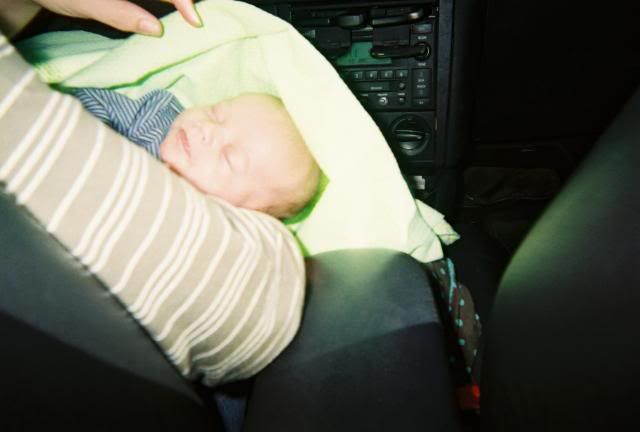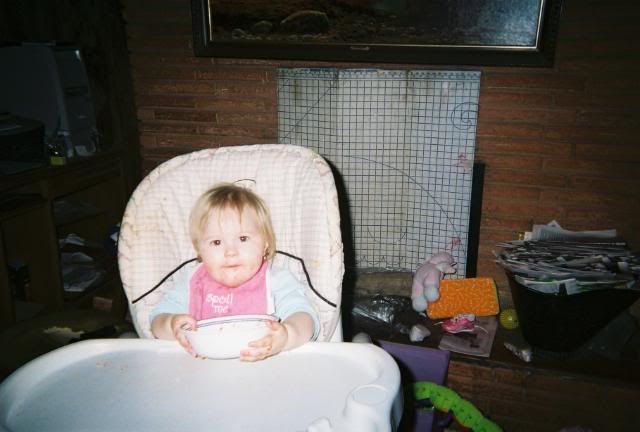 As you can tell ... a lot's been going on. Chris is doing well, but super busy and very tired. He's also lonely and missing home. If you'd like to get in contact w/ him to encourage him or keep him updated on what's going on, his email address is pyleca@cg66.navy.mil. I know that he would greatly appreciate having people to talk to as he's already tired of those on the ship. :) If you'd like his mailing address for care packages or the like, then I can provide that upon request. Just email me about it.
I hope that all is well in Jacksonville. I miss it there!