We're home!
The first half of our trip might have been fraught with mishaps and mechanical issues, but the second half didn't get any better. I spent it with a high fever , no voice, and a constant cough. My mother drove 95% of the time. If you had passed on on the highway, this is what you would have seen: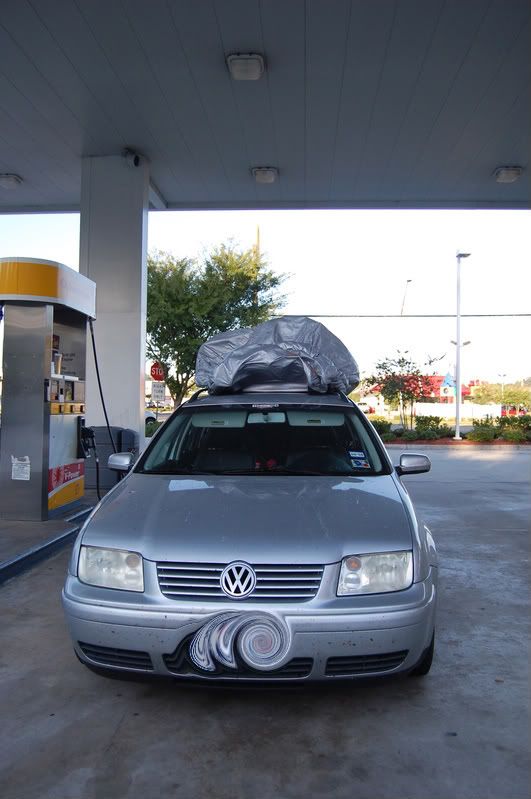 Once we got here we were thrilled with the house! I promise to take pictures of it soon.
My mother and I loaded up a uhaul and moved most of our belongings in Friday. My mother-in-law and I moved the rest in on Tuesday. Chris got home the next day, Wednesday, June 4th.
But now onto homecoming. I don't know how other branches do it, but in the Navy, Homecoming isn't just a big deal -- it's a huge event. The FRG plans for it for months. They hold fundraisers and schedules marching bands and invite the news media out. There is a contest for the First Kiss off the boat. The wife that wins the First Kiss is escorted up the ladder to greet her husband as he is the first person (before the captain even) allowed off the ship. And there they kiss and the media takes tons of pictures. (No, we were not First Kiss.) And the base is decorated is signs, banners and streamers proclaiming the return of the ship for a good week before they arrive.
I cannot even begin to explain the excitement as my mother-in-law, the kids and I pulled onto the base to go to Homecoming. We were told to be at the jetties (rocks right before they enter the pier) by 8 am when the ship would become visible on the horizon. We didn't know that only 3 other people would actually attend that part, but I don't regret doing it.
Looking out at the horizon: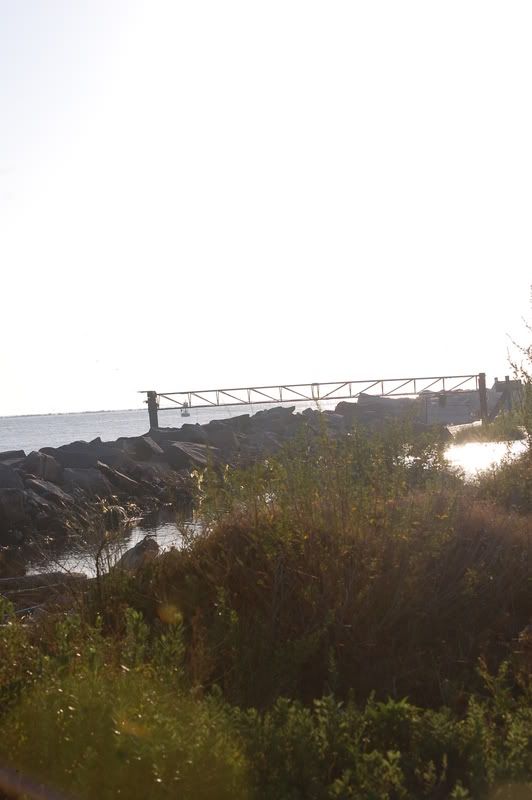 While waiting, we saw dolphins! There were 3 or 4 of them, but these are the best shots that I got.
All of a sudden, I saw the ship!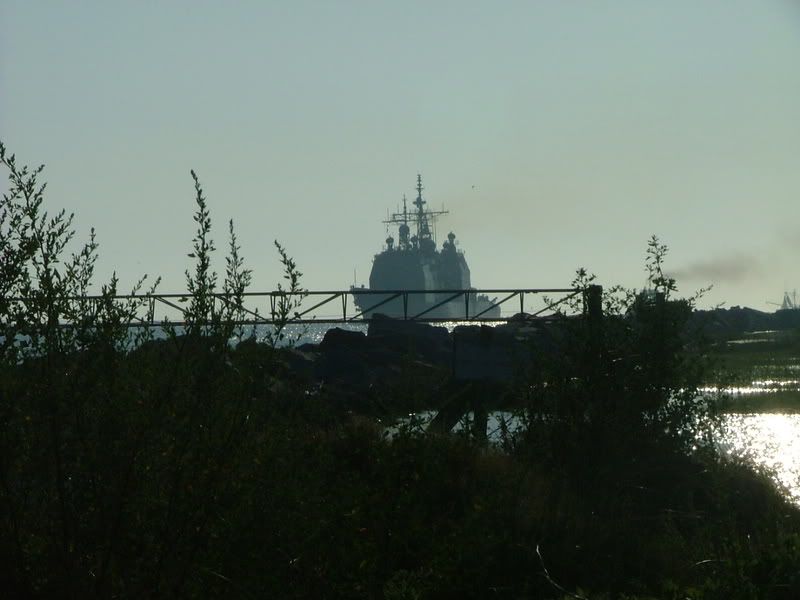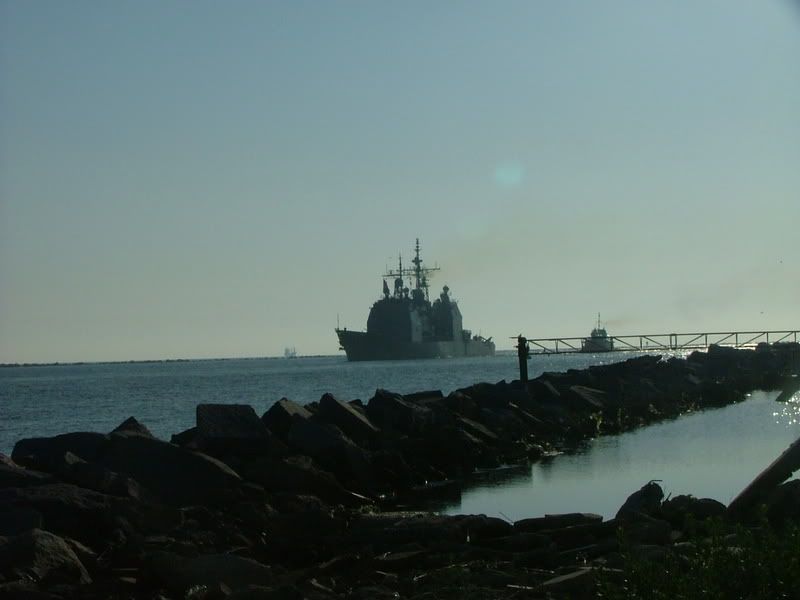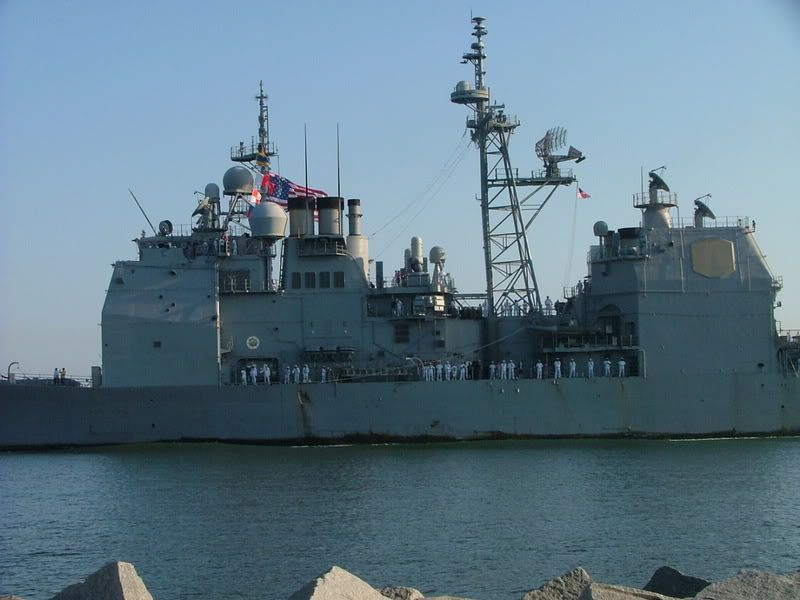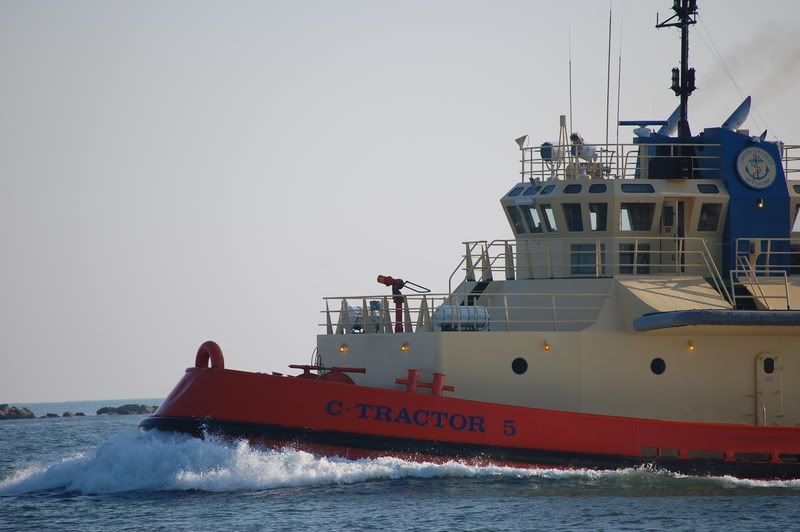 As they were pulling in, helicopters did a fly by to welcome them home!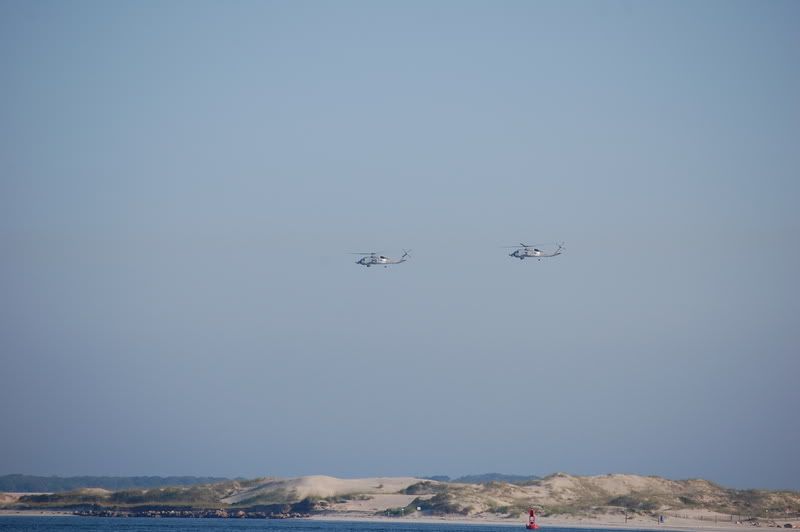 From the jetties we rushed over to the pier to greet our sailor. The Navy band was playing as well as a local middle school marching band.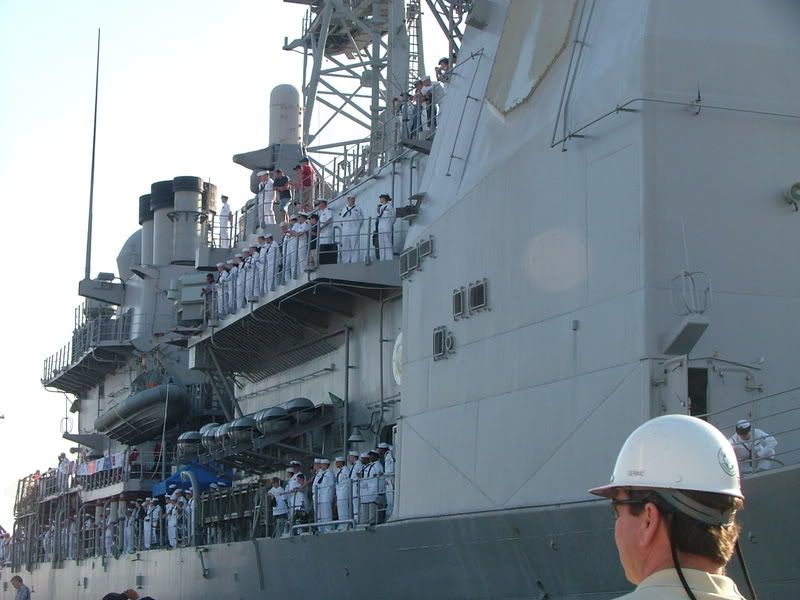 We had spent weeks talking about how Daddy was coming home soon with Kairi, but she was still confused to say the least when we got there and started telling her that Daddy was on that "boat".
Before long, though, we found Daddy on the boat -- do you see him?
Kairi finally does! (Well, maybe....)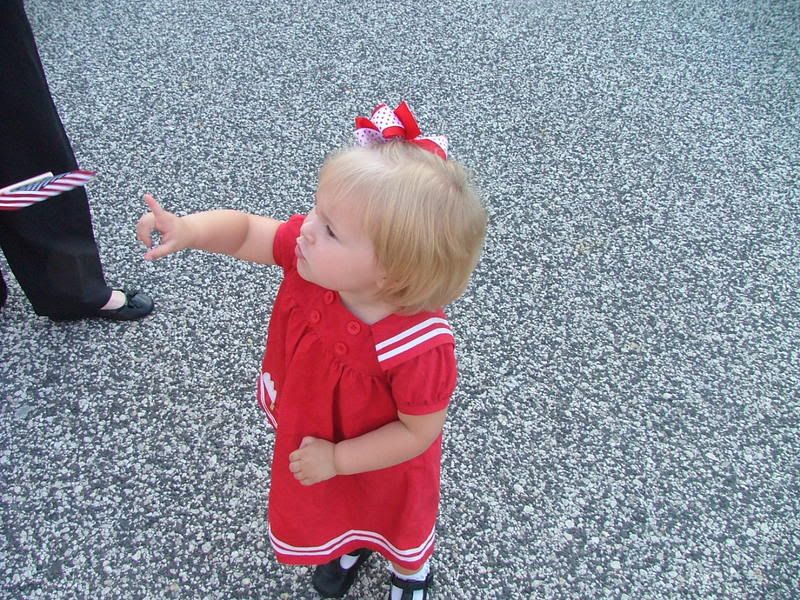 First Kiss this year went to a Lieutenant's wife who was 8 months pregnant. After kissing her, he dropped down on one knee and kissed her stomach. It was adorable!
Surprisingly, Chris was one of the first sailors off the ship ...
(Look for the black laptop case in his hand.)
It took Kairi a while to even approach Daddy...
But on the car ride to lunch (about 45 minutes after he'd been home) she made a breakthrough. My mil was sitting in the backseat b/w the carseats.
She patted Nana on the arm. In very hushed tones:
Nana. Nana...
What baby?
Nana, Nana look.
What am I looking at baby?
Nana, look. My ..... my DAAAADDDDDYYYYYYY!!!!!!!!!!!!! <-- at the top of her lungs
Since then, all I hear about is Daddy. Daddy and his boat. It's the sweetest thing.
Alex is having a hard time adjusting to Daddy, though. He just isn't sure that Daddy is an ok person. It's slowly getting better, but it's definitely going to take some time.
Here's a few other pictures of the kids ....
As you can tell, internet is officially up and running! I was having to use Chris' phone before to access the internet, and that's not any fun at all.
Missed ya'll!