Post one of at least two today -- videos coming
(Clickable pics)
First, the other morning after feeding the kids bowls of oatmeal and then walking into the other room, I came back to the dining room to see Aslan sitting like this: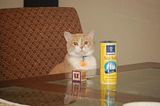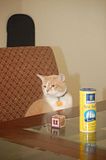 That's MY seat at the table. And there he set, expecting his food to be served there. For the record, he's never been fed at the table, and never will be. But obviously he considers himself royalty and tried to demand it that morning.
And now for Zoe. Remember when we first got her she was much smaller than we expected:
Then the next pictures of her where these:
And now .... Here's her this past week!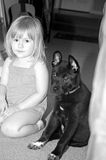 Zoe is sitting a foot or so behind Alex, even though you can't tell it in this post, but it's still a decent comparison shot ... And Alex is cute. :)